First Image Sensor Module PCB design draft finished
We've just finished the schematic and layout for the AXIOM Beta 4K Super35 (CMV12000) image sensor board. Yay!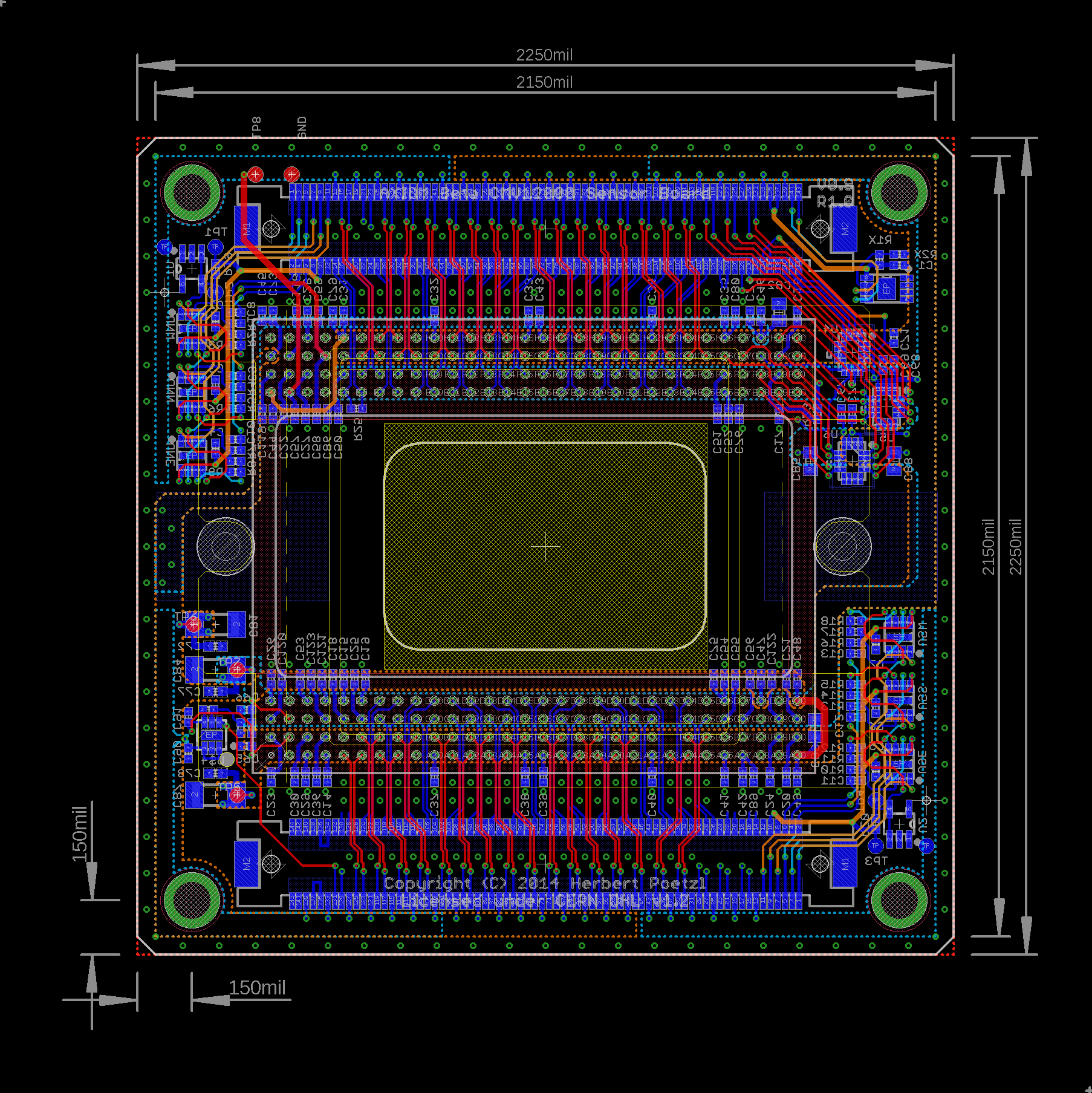 The design features a few new ideas we gathered during the crowdfunding campaign from input and feedback to the existing design.
Those are as follows:
The sensor board contains an EEPROM to store sensor model, voltages and unique identifiers.

The sensor board can be rotated by 180 degree and still work with the same interface board (auto discovery to detect orientation).

The sensor board specifies and verifies what sensor voltages are desired and required (up to six voltages can be requested).

There are no parts on the top of the PCB except for the sensor/sensor socket to facilitate any kind of cooling system.

There is a cut-out area in the middle to connect to a heat sink or to measure sensor temperature with a thermopile.
Besides that, the designed interface should be generic enough to accommodate a number of other sensors without any changes to the interface board connections. This is an important step in AXIOM Beta design  towards the modularity we are aiming for with the AXIOM Gamma. If you are experienced with schematics and/or board layout, please take the time to review the design and notify us about any issues you find. Note that this is a preliminary design and needs to be verified before we can actually build it.
Schematic:
axiom_beta_sensor_cmv12000_v0.9.pdf
Layer images:
axiom_beta_sensor_cmv12000_v0.9_all.png
axiom_beta_sensor_cmv12000_v0.9_top.png
axiom_beta_sensor_cmv12000_v0.9_sig1.png
axiom_beta_sensor_cmv12000_v0.9_sig2.png
axiom_beta_sensor_cmv12000_v0.9_bottom.png
Eagle files:
axiom_beta_sensor_cmv12000_v0.9.sch
axiom_beta_sensor_cmv12000_v0.9.brd
Perk
Fulfillment

Team

Our perk fulfilment team has been extra busy to contact all backers about their preferred button design choice, their t-shirt sizes or to notify backers who did not add the shipping cost to their pledges so far. The buttons are already in production and should arrive in our office soon.
AXIOM Beta Remote Controller Menu Simulator
We started creating an online simulation of the remote controller menu structure so we can evaluate the best way how these devices can be operated intuitively. The simulator is still an early draft but the basic foundation is now done and future extensions can be added easily.
If you want to help us feel free to grab the source code and make changes (send us a pull request when done): https://github.com/apertus-open-source-cinema/dictator/tree/master/HTML-Simulator
AXIOM Remote Control Device is looking for a name
In 2011 when we first announced the project to build a remote control device for the Elphel camera at that time we called it "Dictator". We referred to the "benevolent dictator" like Linus Torvalds who is typically the initial leader of an open source community project but we did acknowledge that most people had other interpretations of much less popular persons of interest in history. We are still looking for a name, make suggestions here: http://lab.apertus.org/V3